How Debit Card Round Up works…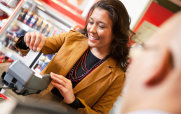 Use your Debit Card to make everyday purchases and Bay Area CU will round up the change on the transaction to the nearest whole dollar. The difference will automatically transfer from your Checking Account to your Savings Account at the end of each day!
Saving has never been so easy!
Ask a representative for more information and enroll today!