Bay Area Credit Union has a variety of youth clubs that let kids and teens earn money on their savings, participate in fun activities, and get free stuff! (and a little financial education along the way)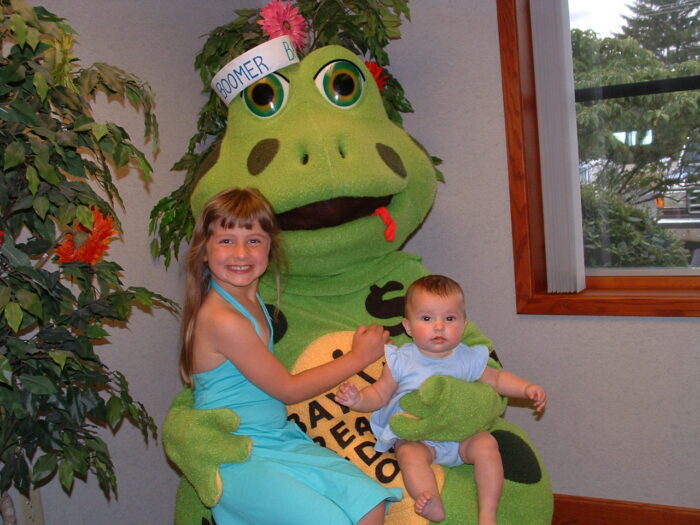 FIRST MATES CLUB: Ages 11 and under
First Mates Club members have fun while developing the habit of lifelong savings. During the year, Bay Area Credit Union and Boomer, the club mascot, sponsor several First Mates Only events, like our annual Egg Hunt and an awesome Christmas gift drawing.
Benefits:
Play our special bean bag game and win a PRIZE with each in-person deposit
Opportunity to earn a 10-inch plush Boomer the Frog
Dividends paid quarterly
Invitation to First Mates Only events

CAPTAIN'S QUARTERS: Ages 12 through 17
Our DEBIT CARD ACCOUNT is designed for teens, ages 12 through 17. There's a lot to know when it comes to making sound financial decisions, and that's what CAPTAIN'S QUARTERS is all about. We require an adult joint owner on the account so both you and your teen have the ability to track and monitor spending through 'It's Me 247' Online Banking. Put your teen on the path to financial independence.
Benefits:
CAPTAIN'S QUARTERS DEBIT Account with your own Debit MasterCard®*
Dividends paid quarterly
Welcome packet with gift
*Adult joint owner must sign, debit/checking account, sign-up for 'It's Me 247' online banking and eStatements are required.
**All youth accounts require birth certificate and social security card as well as an adult joint owner.

BOOMER FROGGY
Boomer is Bay Area Credit Union's mascot. This big, huggable green frog can be seen in parades, at youth club events, and in classrooms across our area. You never know where Boomer is going to hop to next!